Settings
The primary purpose of the SearchWP settings screen is to allow modification of the weights used within SearchWP's algorithm. Each search engine has its own settings. The Default engine replaces all WordPress native searches.
General Settings
Each Supplemental Engine has the same settings as the default engine, but also allows you to name it. A code-friendly version of your name is provided alongside the engine name, and that's what you will use in your code.
Engines are primarily based on post types. You can add/exclude any available post type to any engine at any time. If a post type is listed in the configuration, it will be included in searches.
You can create as many supplemental engines as you'd like. Here's a walkthrough on how to use a Supplemental Engine on your site: https://searchwp.com/docs/kb/supplemental-search-step-by-step/
All of the registered (and not excluded from search) post types are available for each SearchWP engine configuration. Media is somewhat unique, however.
Note that Document content and PDF metadata each have their own Weight fields which apply only to documents SearchWP was able to parse and index.
Transfer weight to parent
The parent attribution feature for Media in SearchWP can be very helpful. By default, SearchWP will return Media results just like any post type. The link will direct you to the Attachment page for that Media (which can be customized to link directly to the file if you'd like) but that's not always desirable.
With Transfer weight to parent enabled, SearchWP will instead return the parent post for Media search results. For example, if you have a Page on your site, and you've uploaded a PDF to that Page while editing that Page (i.e. WordPress lists that PDF as Uploaded to that Page) searches for content within that PDF will return the parent Page as the result instead of the PDF itself.
Find out more about Transfer weight to parent in this KB article: Media: Post Parent Attribution
Advanced Settings
The Advanced tab of the SearchWP settings screen allows you to take some common actions that may prove to be useful from time to time.
Reset Index: This will trigger a full reset of your index, deleting the existing index and triggering the indexer to rebuild the index.
Wake Up Indexer: If the indexer appears to be stalled, you can try to wake it up.
Reset Statistics: Completely erase all logged SearchWP search statistics.
Restore Conflict Notices: If you have dismissed a Conflict Notice, this button will bring it back.
Using the Settings checkboxes you can customize how SearchWP operates.
Debugging Enabled: Enable SearchWP's debugging.
Use alternate indexer: Enable SearchWP's alternate indexer.
Reduced indexer aggressiveness: By default SearchWP's indexer runs as fast as it can respective of your server, tick this checkbox to scale it back a bit.
Disable minimum word length: By default SearchWP ignores words with less than three characters, tick this checkbox to disable that minimum.
Use SearchWP for Admin/Dashboard searches: By default SearchWP does not hijack searches in the WordPress Admin/Dashboard. SearchWP does not automatically integrate with custom filters, so Admin searches cannot be automatically enabled.
Prevent the indexer from automatically running: SearchWP's indexer runs in the background, keeping the index up to date as content on your site is managed. Tick this checkbox to prevent SearchWP's indexer from running. This is also useful when importing content.
Exclusive regex matches: SearchWP uses regex pattern matching to help customize the search algorithm. Tick this box to make matching more restrictive if directed by support.
Remove all traces of SearchWP upon plugin deletion (including index): When this checkbox is ticked, SearchWP will remove all traces of itself (entire index, statistics, options, metadata, etc.) when SearchWP is deleted using the Delete link on the Plugins page of your WordPress Admin/Dashboard. If left unticked, this data will remain after plugin deletion. The cleanup procedure is only triggered by using the Delete link on the Plugins page, it does not run if SearchWP is manually deleted via FTP or otherwise.
These settings are saved as soon as the checkbox is clicked: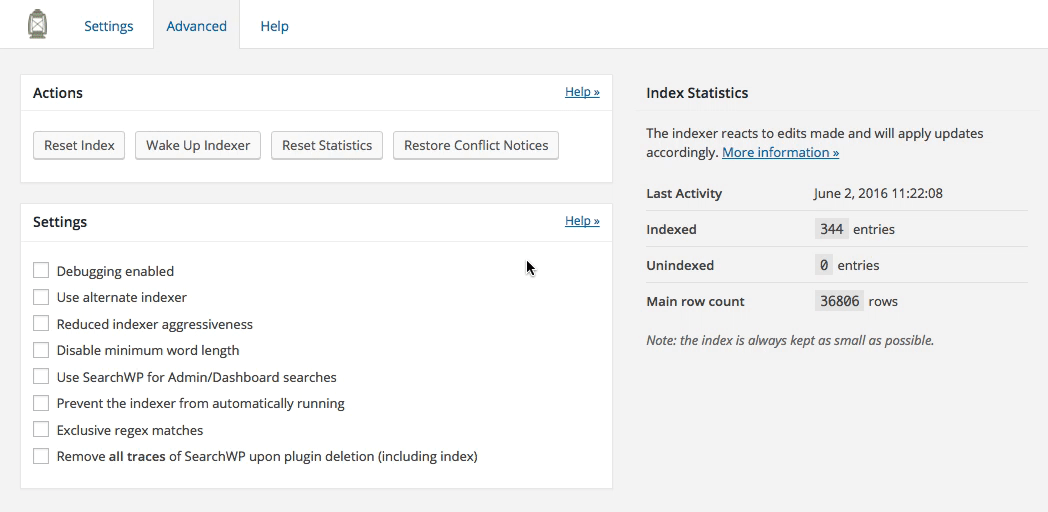 The Index Statistics give a general overview of the index as a whole. SearchWP automatically keeps the index up to date as content on your site changes, and you can see those details here.
Please note that the Main row count will likely be very large, but this should not be of concern. SearchWP uses custom database tables to keep the index as performant (and small) as possible at all times.
Settings export/import
Your engine configurations can be selectively exported by ticking the checkboxes for each engine you would like to be included. You can then copy the export contents to your clipboard on one SearchWP installation and paste them into another.
Please note: Importing an engine with the same Label will overwrite the existing engine configuration!
Help
You can use the Help tab of the SearchWP settings screen to open a support ticket. An active license is required to open a support ticket.
Please begin by using a few words to describe your issue, which will guide you through the SearchWP documentation search. If the documentation does not help, you'll be able to create a ticket right there.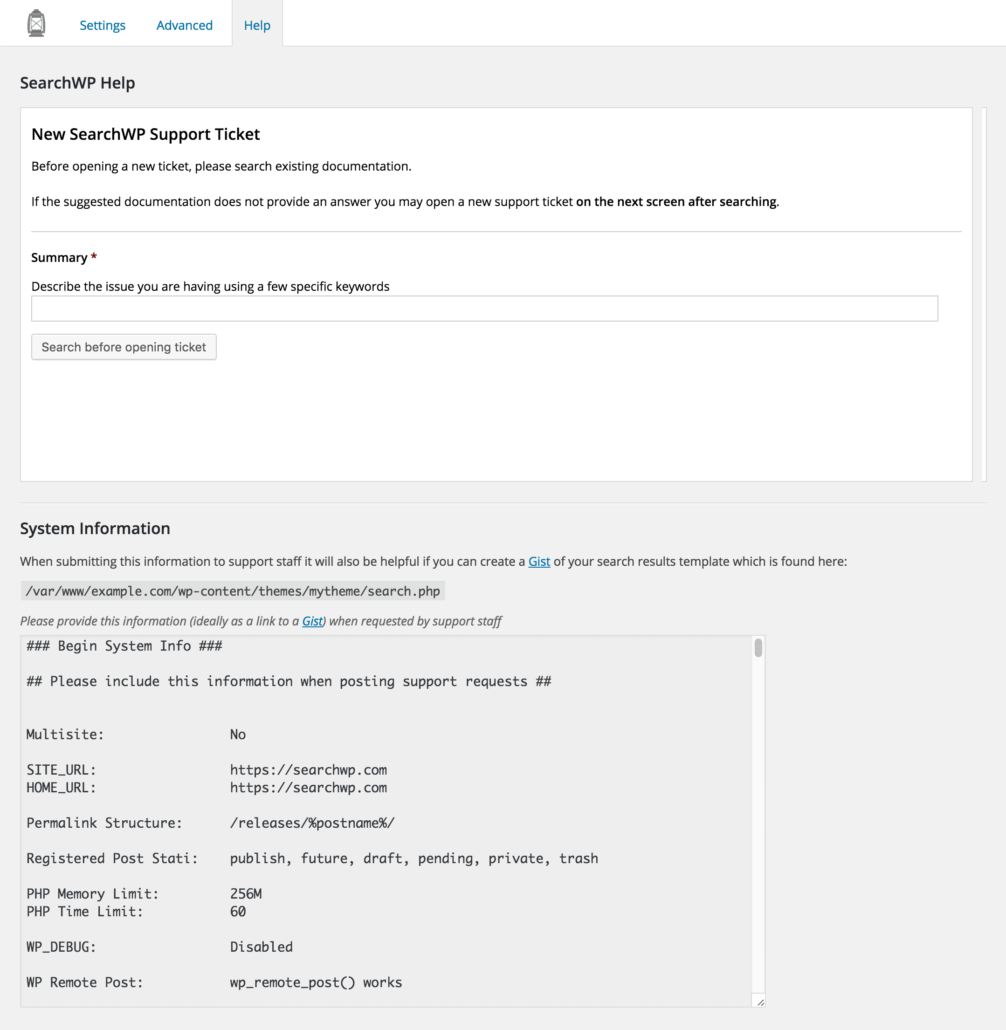 Below that is your System Information, which includes some details about your server and WordPress install, along with your SearchWP engine settings. This can sometimes be useful when troubleshooting a support ticket, so please be prepared to create a Gist (always preferred, you don't need an account) upon request from SearchWP support.