SearchWP version 2.8 was just released for all active license holders! Version 2.8 focused on two things:
Improving document support
Improving the settings screen
There were also some other smaller bug fixes as well.
Improved document processing
Since day one SearchWP supported the extraction and indexing of PDF and plain text content. Version 2.8 broadens document support to include:
Plain text
CSV
Rich text (RTF)
PDFs (that have readable text*)
Office Documents (.docx, .xlsx, .pptx, NOT.doc)
OpenOffice Documents (.odt, .ods, .odp)
Supporting Office documents was an often requested feature, so I'm really happy it's now available. Along with this feature update comes improved documentation for the feature as a whole in the form of a few new KB articles:
Document Processing in SearchWP — Find out in detail how document processing is implemented and how you can take advantage of it.
Customizing parsed content — You have complete control over parsed document content, and you can customize it if you'd like.
Linking to file instead of Attachment page — Many theme's do not account for Attachment templates, and it often makes sense to link directly to the file as a result.
Attributing Post Parent — SearchWP allows you to attribute keyword weight to the post parent, which is very useful when handling documents in search results.
"SearchWP Failed to Index X Posts" — SearchWP's document processing can sometimes cause a post to fail to index. Find out common causes and fixes in this KB article.
Along with additional document types, SearchWP's handling of larger documents has been improved as well. Document processing has proven to be a very important feature of SearchWP and I'm happy to have improved support in version 2.8!
Improved settings screen
The settings screen for SearchWP is one of it's most powerful features. The goal is to make it as usable as possible for everyone. Until version 2.8 the Advanced tab was severely lacking, somewhat by design. I've always tried to avoid adding interface elements unless completely necessary and in version 2.8 it was time to make a few changes.
The Advanced tab of the SearchWP settings screen now makes it easier to utilize common actions and toggle often used settings: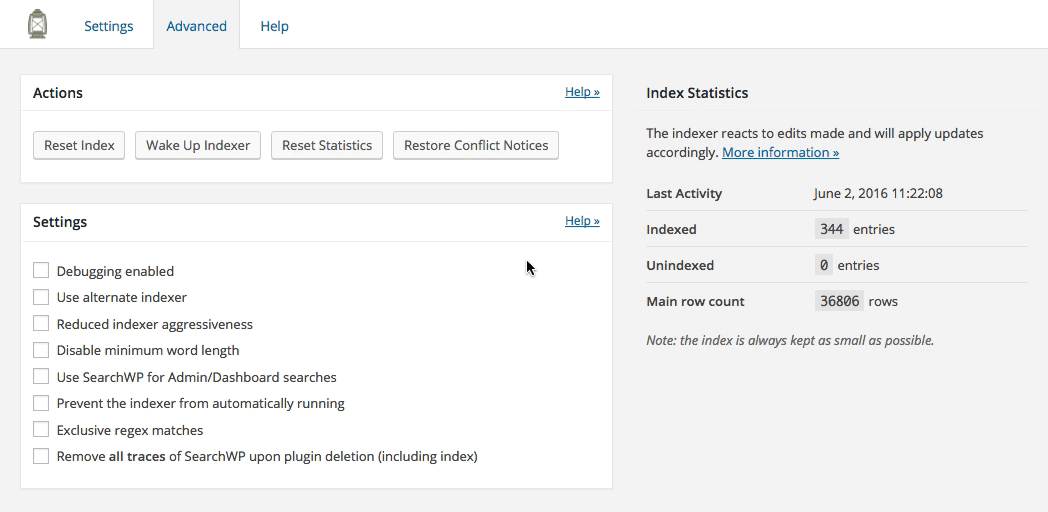 The Actions meta box now contains the most common operations you may need to take when working with SearchWP. The Settings meta box includes the most commonly used settings after analyzing a few years worth of support tickets. These Settings do nothing more than provide a UI for their equivalent Hook, but adding them here should make it much easier for you to work with.
New documentation for Settings has also been added.
Other improvements
The translation source has been updated, so if you're able to provide a translation please don't hesitate to contact me please! Other optimizations on the Settings screen have been implemented such as offloading taxonomy exclusion requests to be processed in real time (instead of loaded with the Settings screen itself) and admin searches are now properly working for Media within Grid view.
Full changelog for version 2.8:
[New] Document parsing support added for Office documents (.docx, .xlsx, .pptx)
[New] Document parsing support added for OpenOffice/LibreOffice documents (.odt, .ods, .odp)
[New] Document parsing support added for Rich Text documents
[New] Settings screen update to better accommodate common actions
[New] Improve settings screen performance by requesting taxonomy terms via AJAX
[Fix] When searchwp_in_admin is enabled searching in Grid view for Media now works as expected
[Improvement] Better handling of large content (including parsed documents)
[Update] Updated translation source
[Update] Updated select2