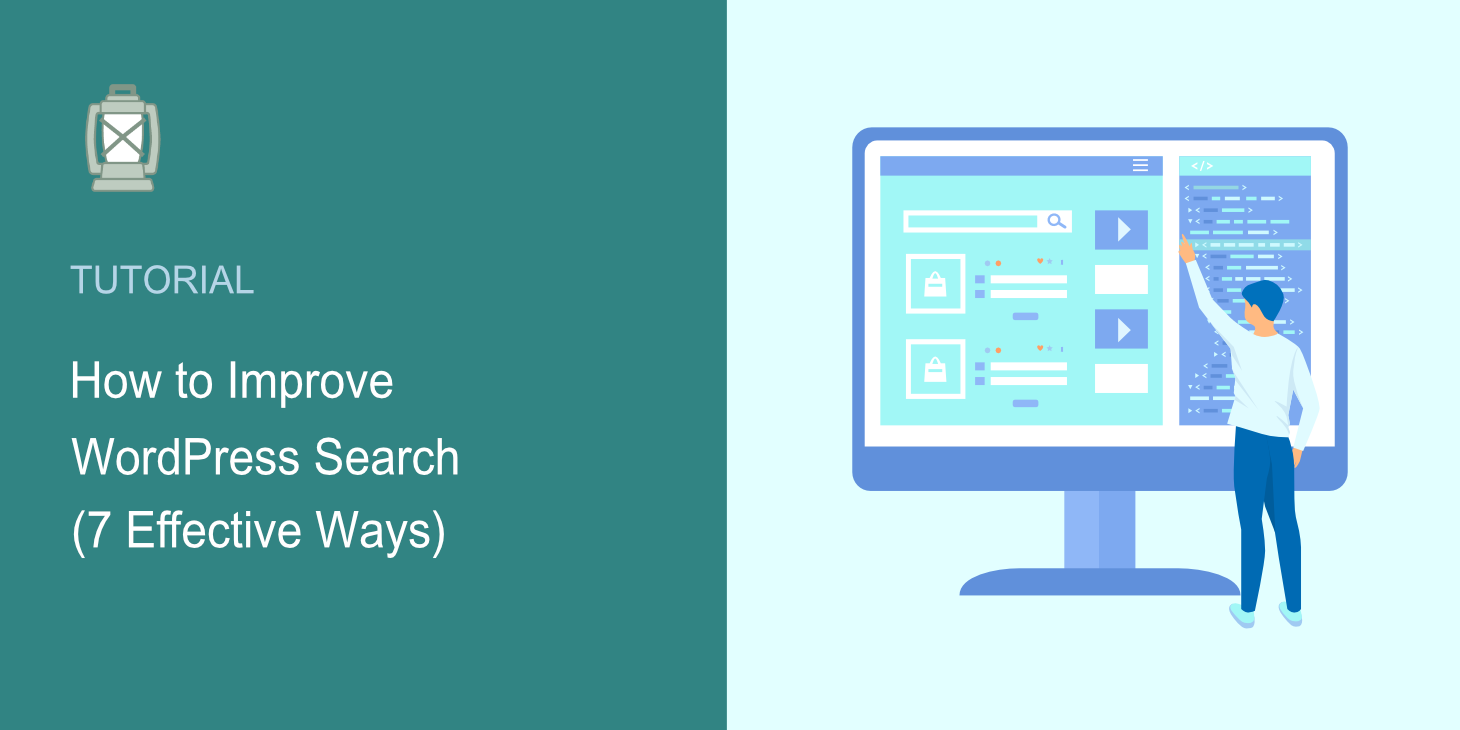 Do you want to know how to improve WordPress search?
It's crucial to have a robust search on your site if you want to succeed online in the long run and build a loyal audience.
In this tutorial, we'll show you 7 effective ways to improve search on your WordPress site with no coding needed.
Why Improve WordPress Search
WordPress is one of the most popular and powerful content management systems worldwide.
It allows you to publish your content, sell your products online, grow your business, and do many other things.
But things are a little different when it comes to the search function of this CMS.
Namely, the default WordPress search engine does not:
Search for custom post types. If you publish content that goes beyond regular posts and pages, your visitors won't be able to find it using search.
Show search results in real-time. WordPress shows search results by opening a new separate page, which is inconvenient and outdated.
Index PDFs and office documents. So your visitors can't search for content within them, making it harder to find what they're looking for.
Collect data on search activity. It takes away an opportunity to better understand the needs of your audience and give them the right content.
Allow you to change the order of search results. You have no control over the order in which your posts and pages appear in search results.
Consider posts custom fields and tags. It makes it harder for your visitors to find the right content and worsens their user experience.
Thankfully, there is a way to solve these problems and enhance search on your site in minutes, even if you're a WordPress beginner.
Let's talk about it below.
Here is a table of contents to help you navigate through this article:
How to Improve Search on Your Site
The easiest way to create a powerful custom search in WordPress is to use SearchWP.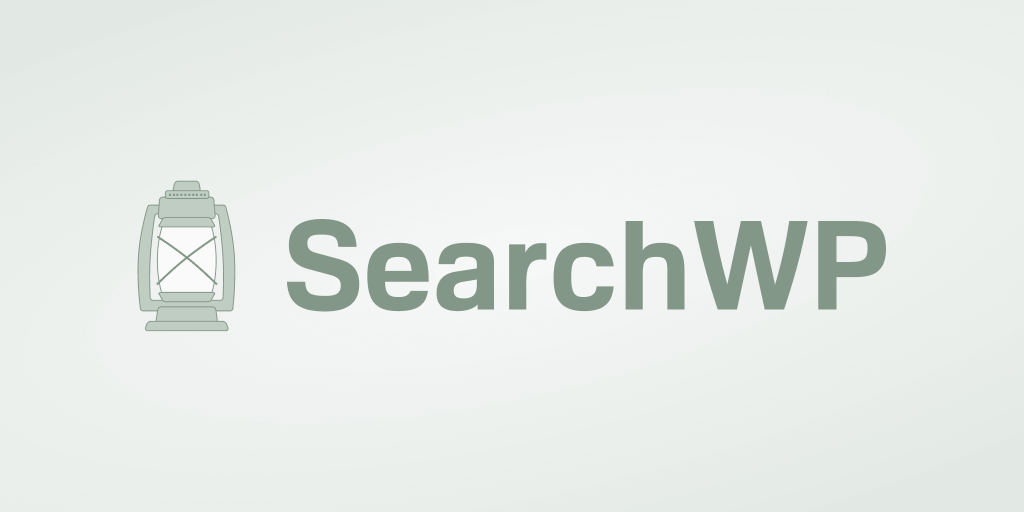 SearchWP is the best WordPress search plugin on the market, with over 30,000 active installs.
It allows you to fully customize how search works on your site and help your visitors find what they're looking for faster.
For example, using SearchWP, you can create custom search fields, enable fuzzy search, highlight search terms, and many more.
Here are some other amazing things you can do with this plugin:
Enable search py post tags. It gives your visitors an additional way to browse your content and inspires them to view more posts.
Add authors in search results. This way, you'll help your visitors find posts of their favorite authors faster and get more page views.
Customize your search results page. Change the appearance of your search results page to make it look more professional and promote your posts.
Add search bars with a shortcode. Place a search bar in your posts and pages with a few clicks to encourage visitors to explore your site.
With that, let's see how you get started with SearchWP and create a custom search in WordPress to help your visitors faster find what they're looking for.
The first step is to grab your copy of SearchWP here.
After that, sign in to your SearchWP account and go to the Downloads tab.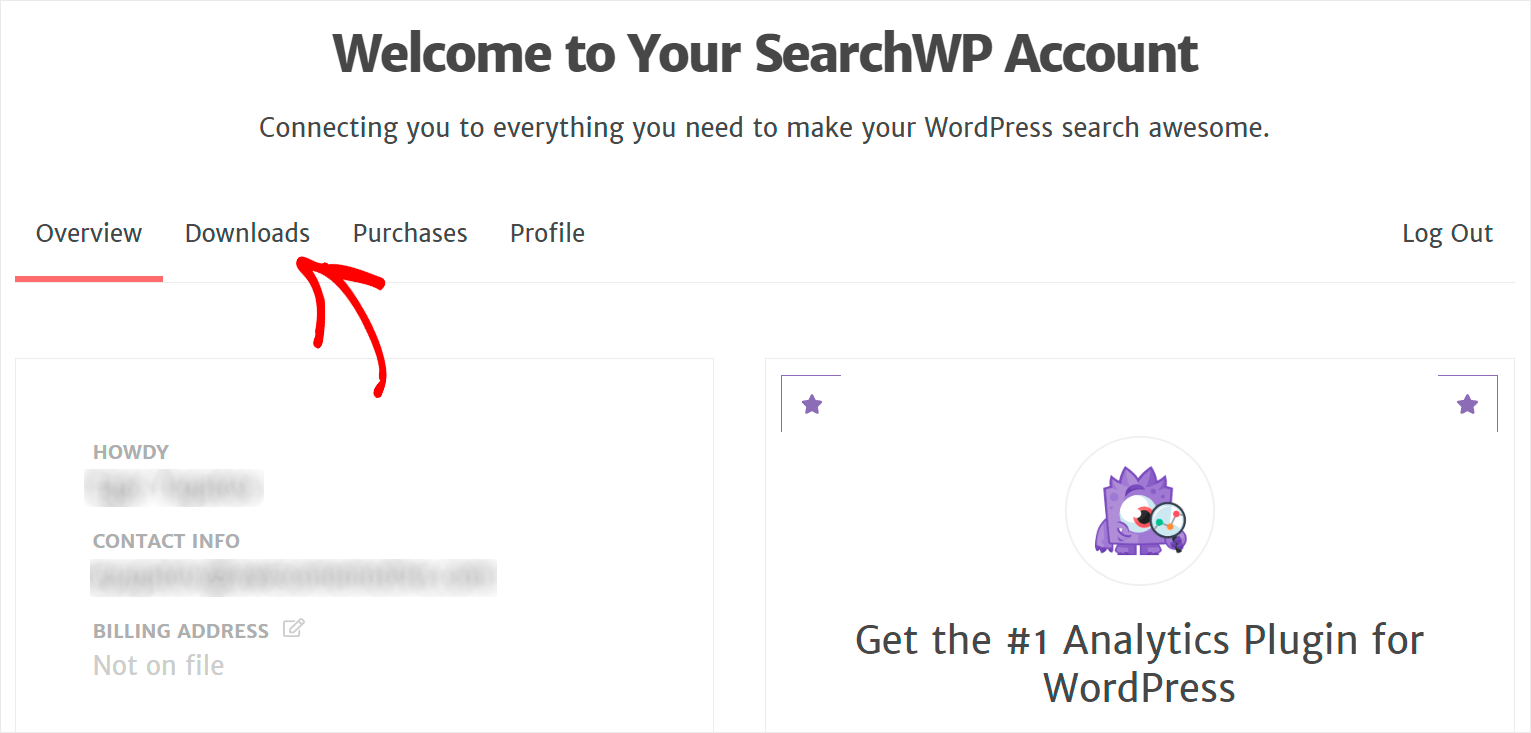 Once there, click the Download SearchWP button and download the plugin's ZIP file to your computer.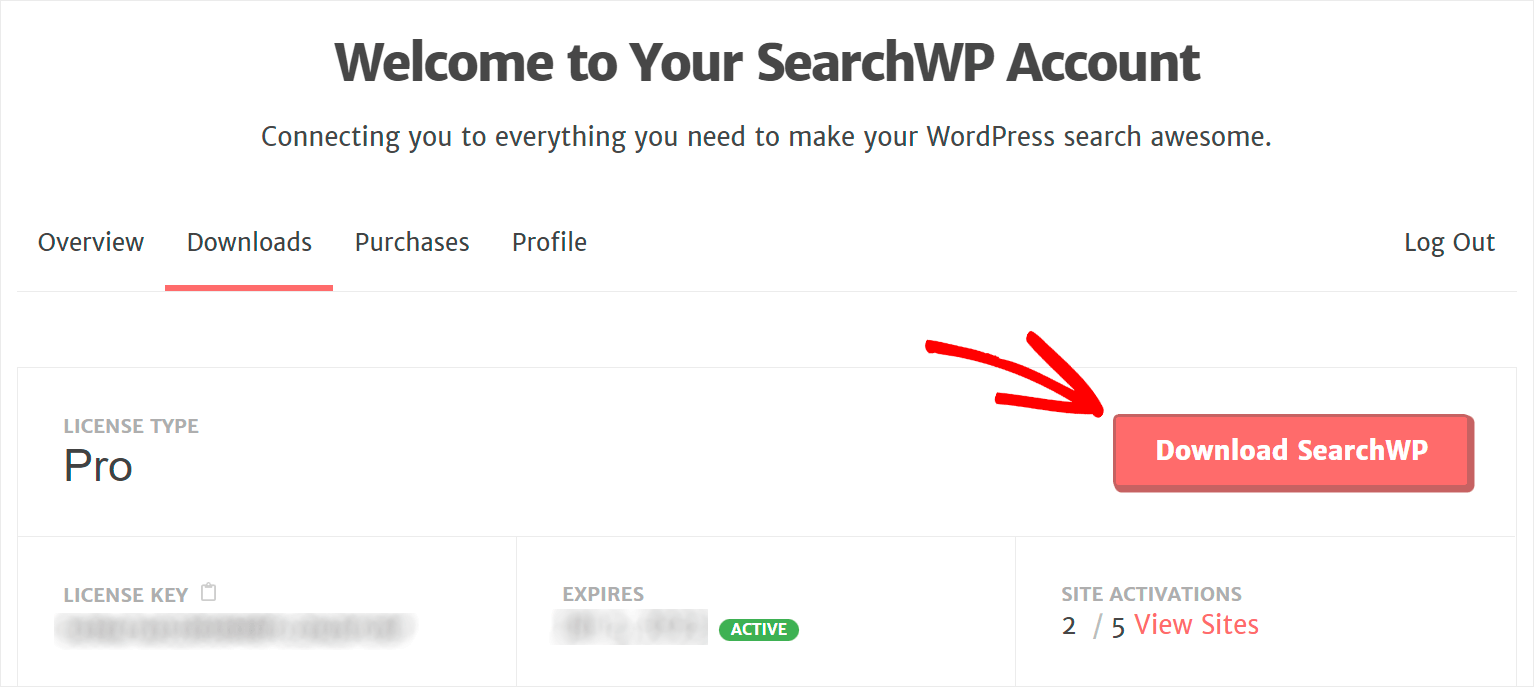 After downloading, copy your SearchWP license key on the same tab.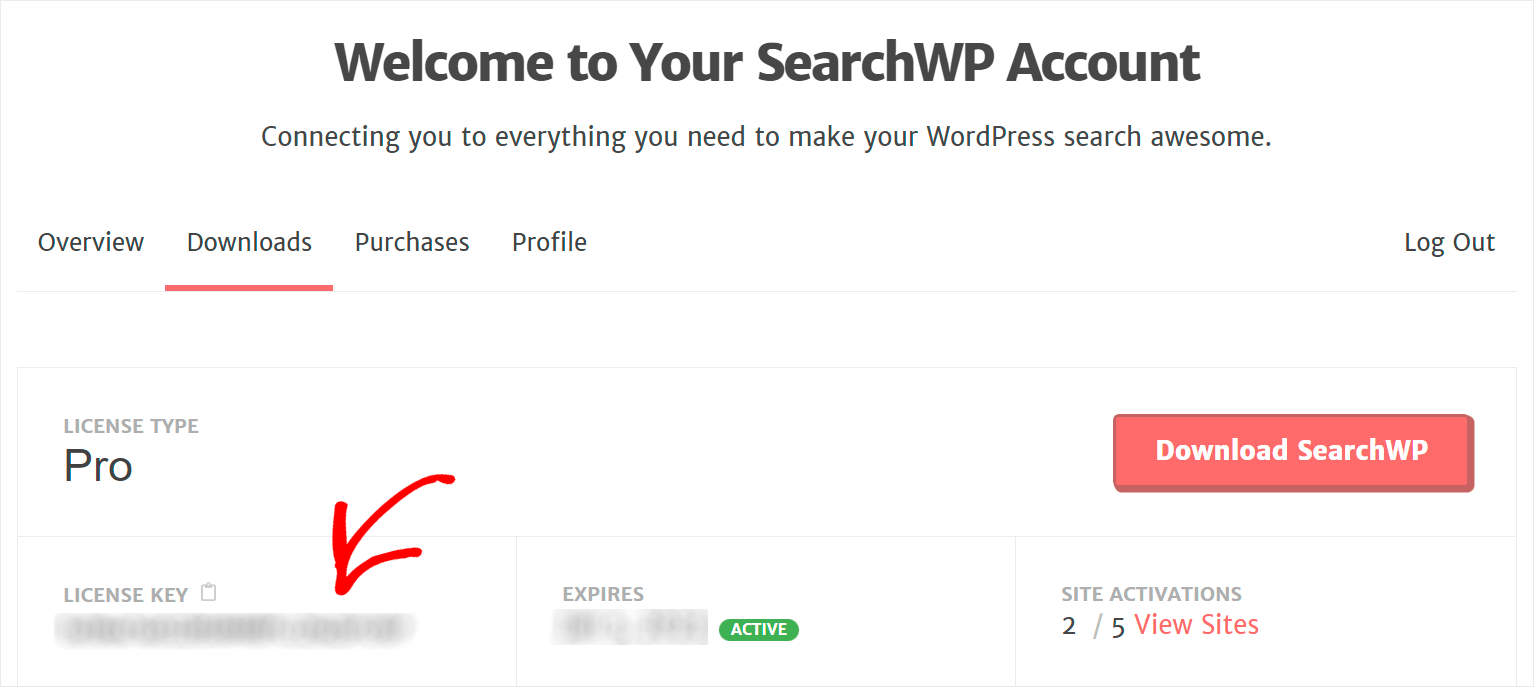 The next step is to upload the plugin's ZIP file to your site.
Feel free to follow the how to install a WordPress plugin step-by-step tutorial if you need help with that.
Upon the plugin installation, you'll need to activate your copy of SearchWP.
First, go to your WordPress dashboard and point your cursor over the SearchWP button at the top panel.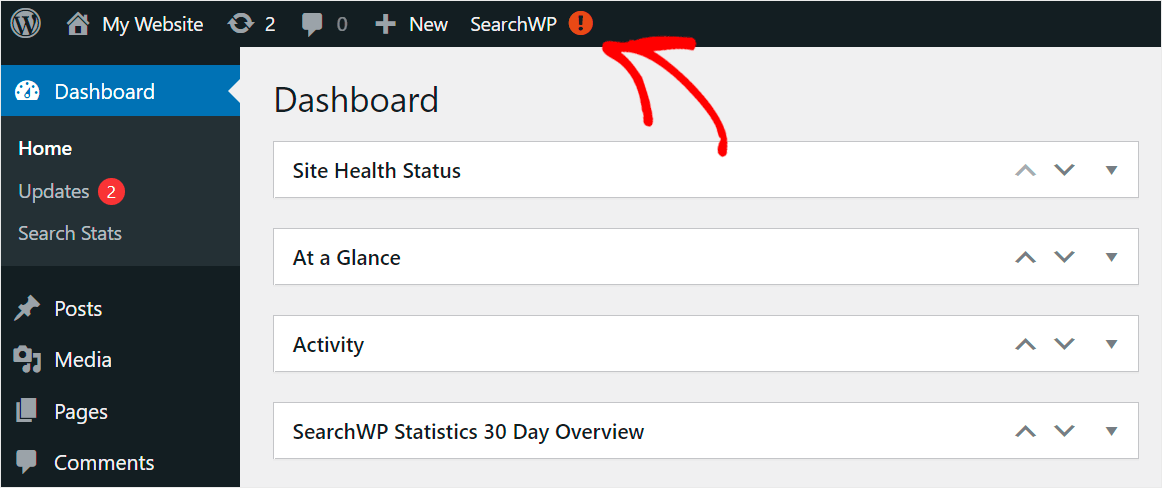 Then, click on the Activate License item.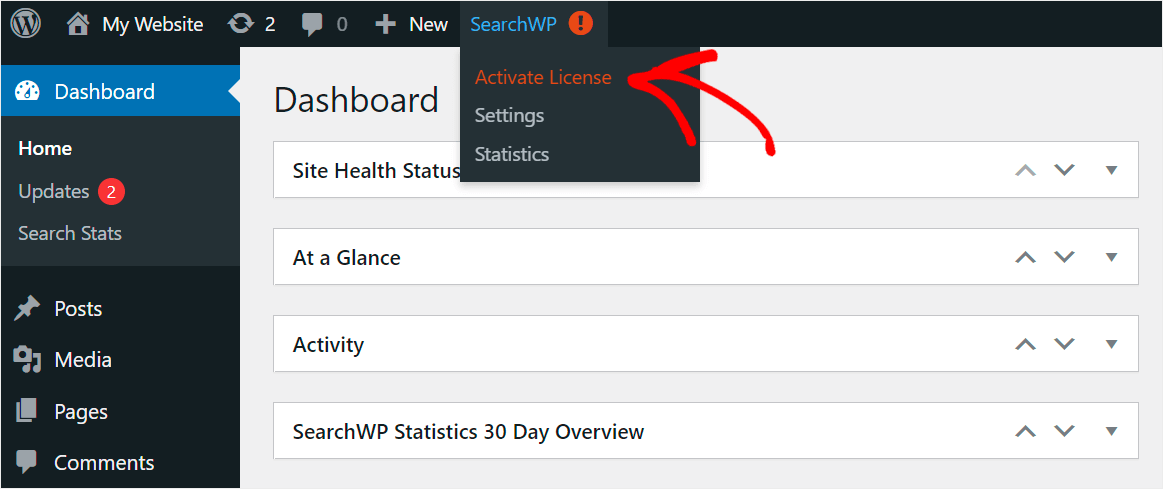 Once you get to the License tab, paste your license key into the License field and press the Activate button.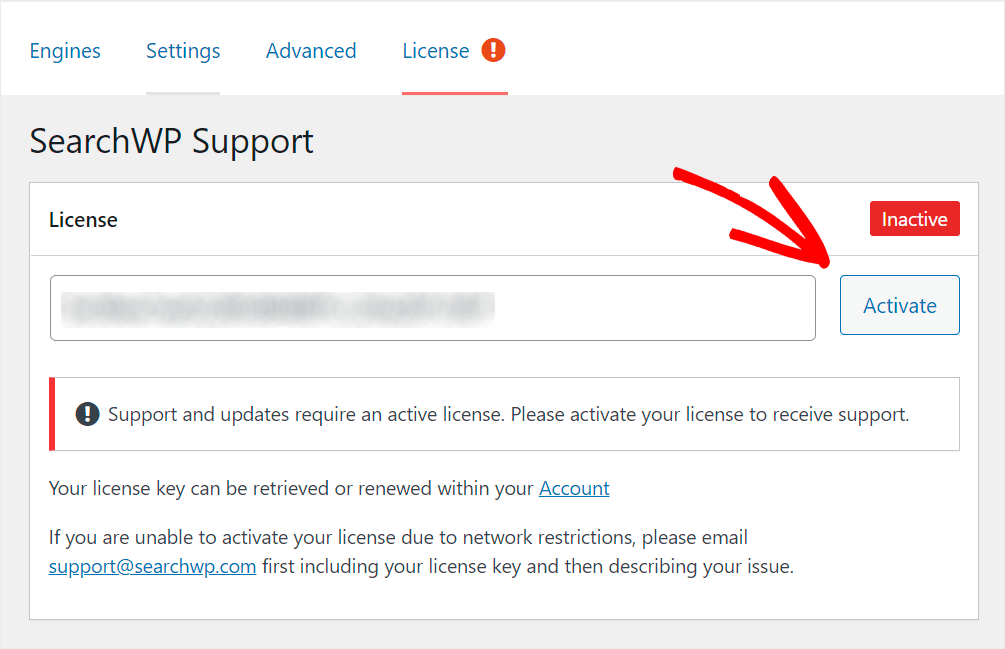 After activating the license, you're ready to start customizing your WordPress search settings to make it better.
Add Live Autocomplete Search
Let's start by adding the live autocomplete search to your site.
SearchWP allows you to do that in just a few clicks without writing a single line of code.
After activating this feature, your visitors can get search results immediately, without jumping to a new page.
It's not only convenient but also helps keep visitors focused on your content and make their user experience better.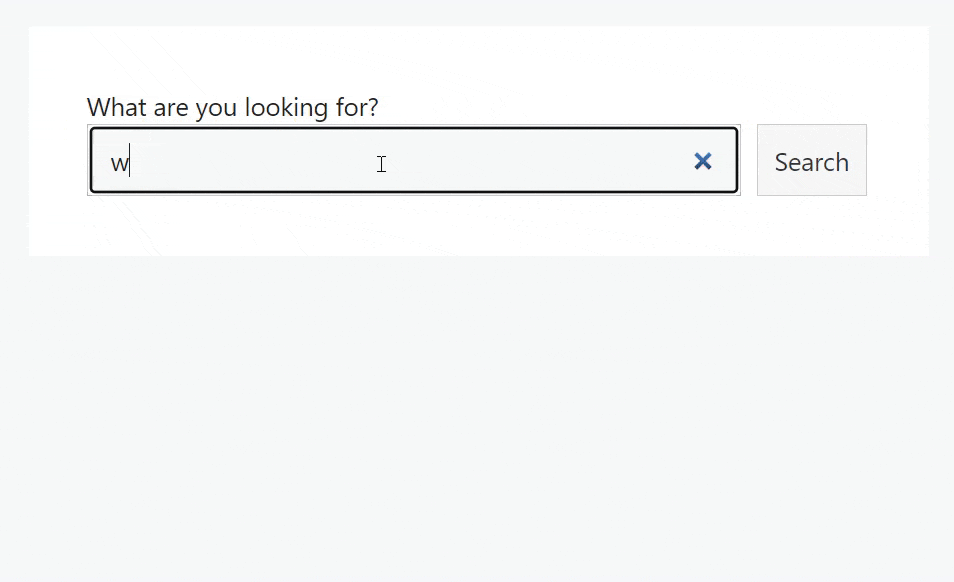 For more details, see our step-by-step tutorial on how to add live autocomplete search to your WordPress site.
Track Searches of Your Visitors
Another awesome SearchWP feature is search tracking.
Once you enable it in your WordPress search settings, the plugin starts collecting a lot of valuable data about what visitors are searching for on your site.
This data includes search queries, a click-through rate of search results, average time spent on the page, and a lot of other helpful information.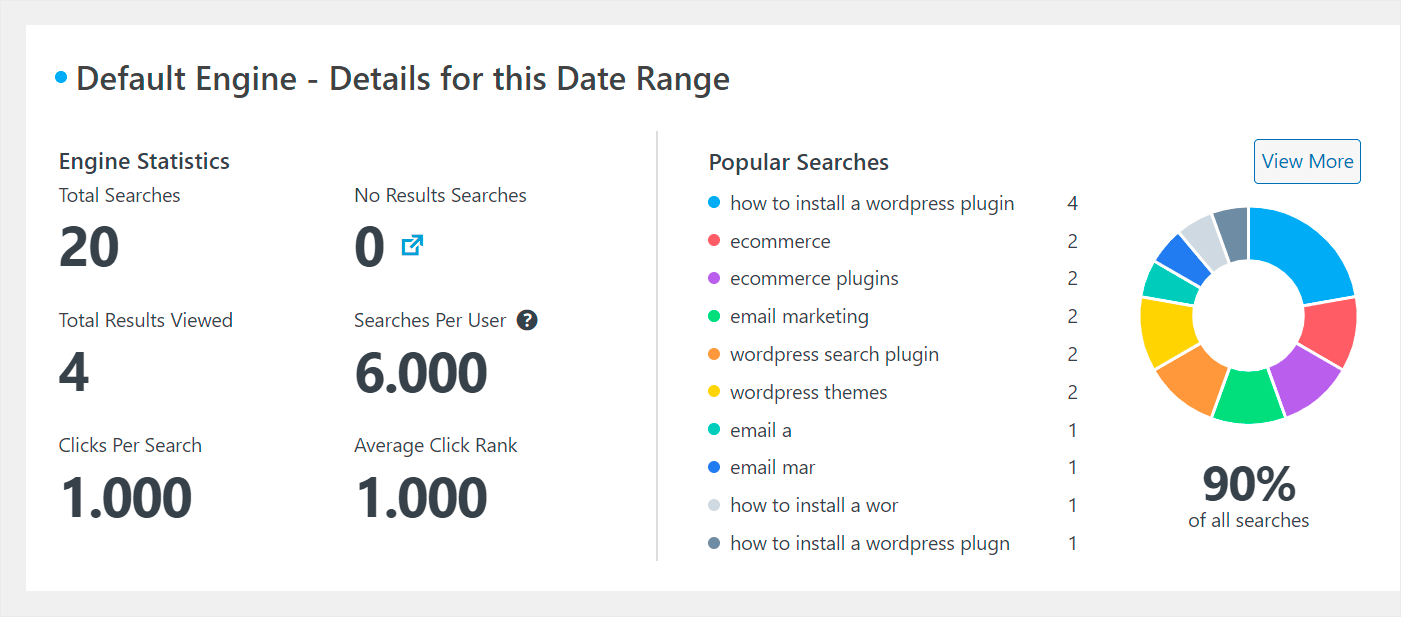 To get started, navigate to SearchWP » Extensions in your WordPress dashboard.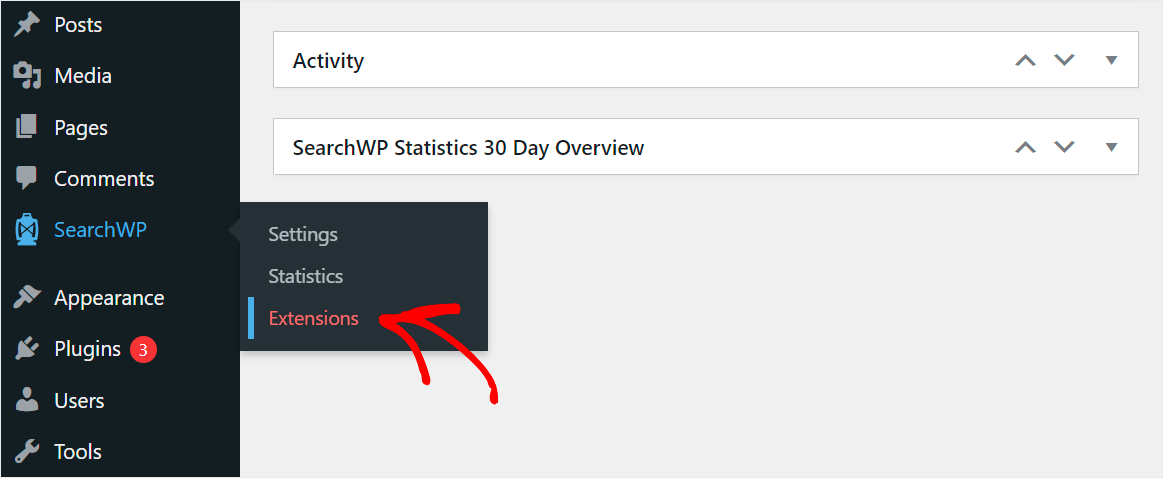 Next, find the Metrics extension and click Install under its section.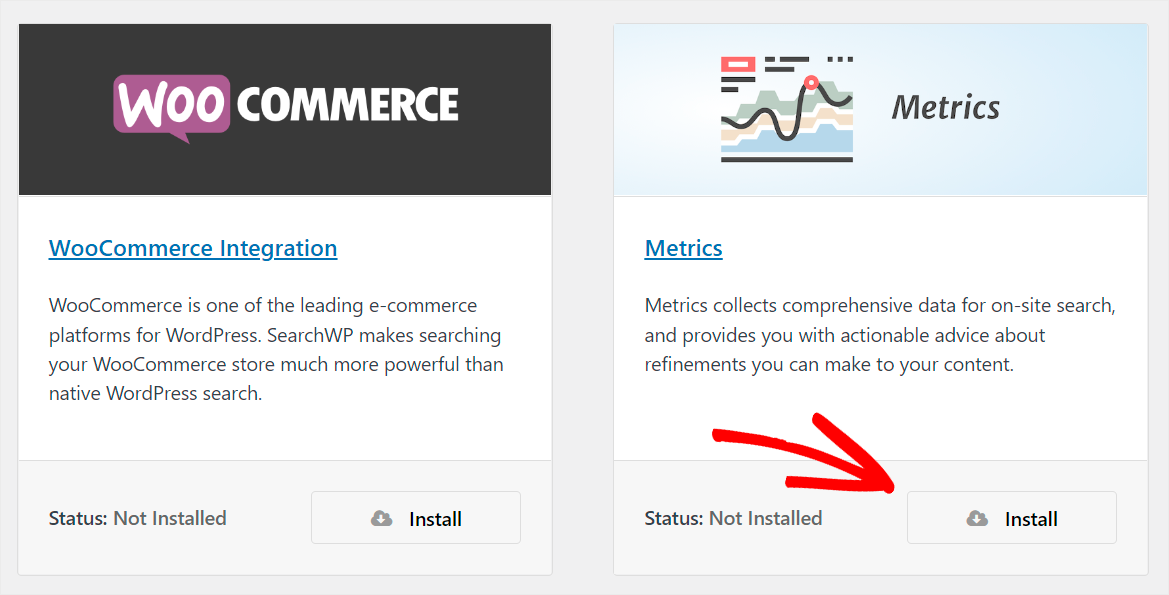 After installing and activating the extension, you can see your site's metrics in the Metrics tab under SearchWP at the top panel of your dashboard.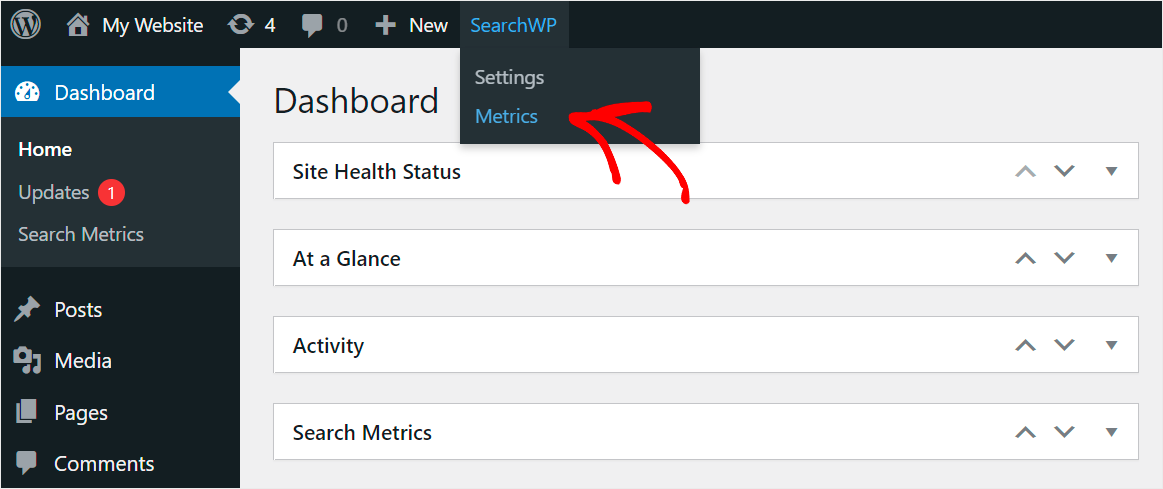 Make PDF Files Searchable
If you often upload PDF files to your site, you may want to make them searchable with SearchWP.
After that, WordPress will start considering content within PDF files as regular posts and pages and showing them in search results.
It'll greatly increase the discoverability of these files and help your visitors find them quickly.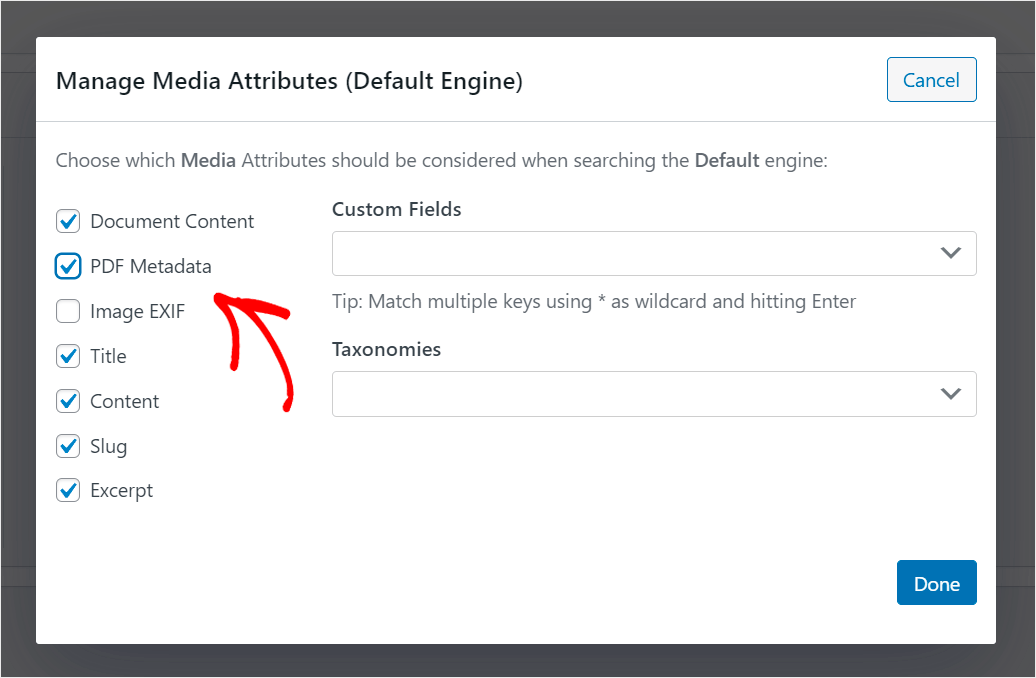 For more information, check out the how to make WordPress index and search PDF files tutorial.
Customize Your Search Widgets
Do you have search widgets on your site? With a WordPress search plugin like SearchWP, you can easily customize them to your needs with just a few clicks!
It allows you to create custom search widgets with an individual set of rules and settings.
For example, it could be a search widget dedicated to a specific type of content, category, or something else.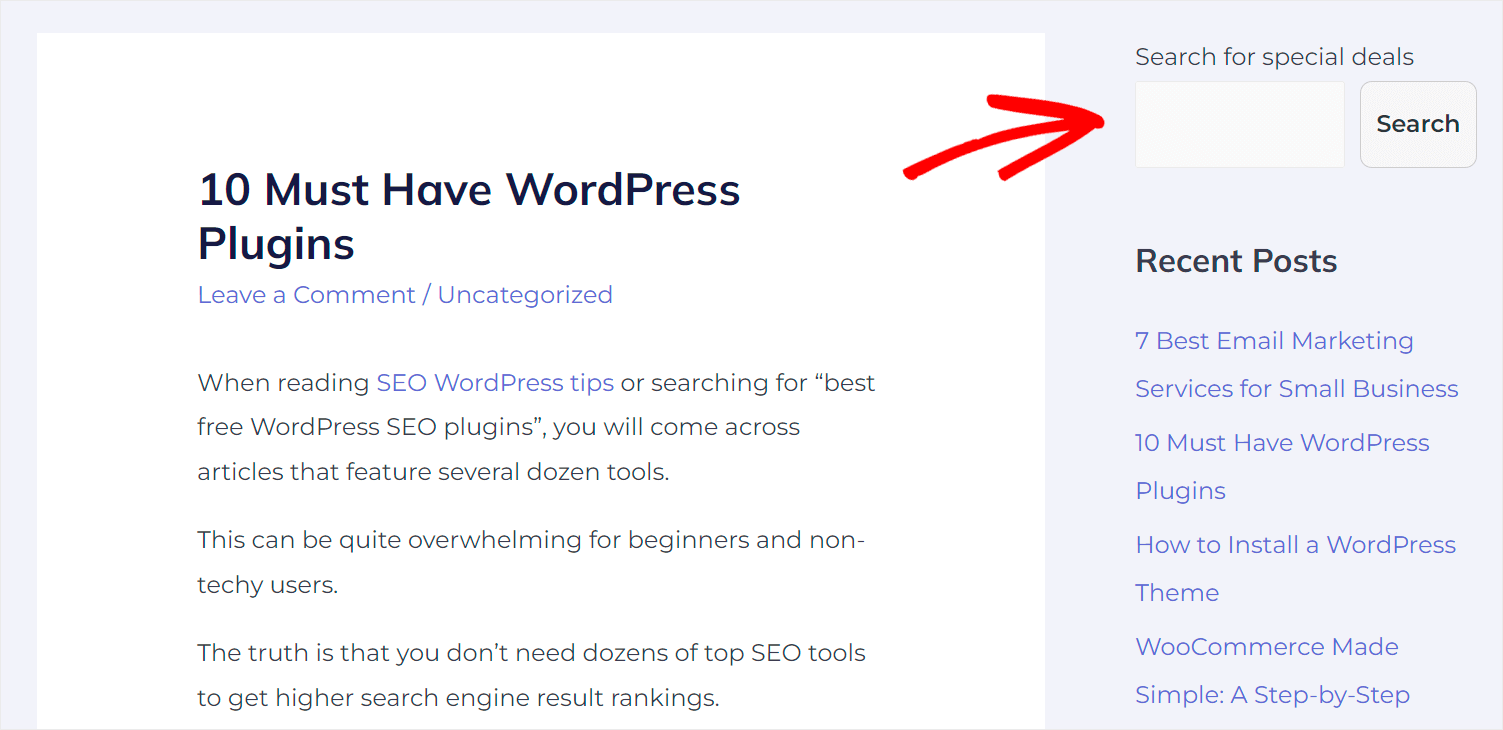 If you'd like to learn more about that, see the how to customize the search widget in WordPress guide.
Enable Search by Custom Fields
With SearchWP, you can make data within custom post fields searchable on your site.
It's beneficial and allows your site users to find the content they want faster and more conveniently.
For example, most popular WordPress eCommerce plugins store product information such as color, price, brand, and more, precisely inside custom fields.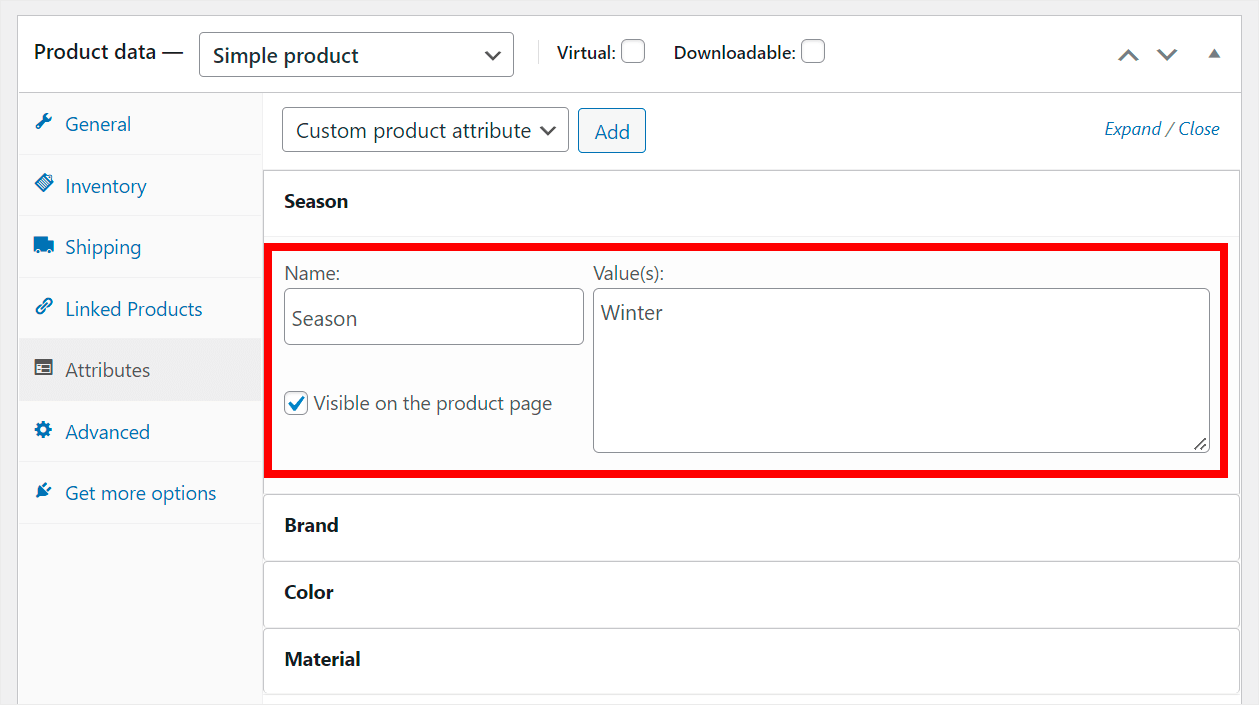 To learn more about making custom fields searchable, check out our post on how to add custom fields search in WordPress.
Exclude Specific Pages From Search Results
Are there any pages on your site that you want to hide in search results? With SearchWP, it's as easy as ticking the box.
Using this feature, you can clean up your search results from redundant pages and help visitors find what they're looking for more easily.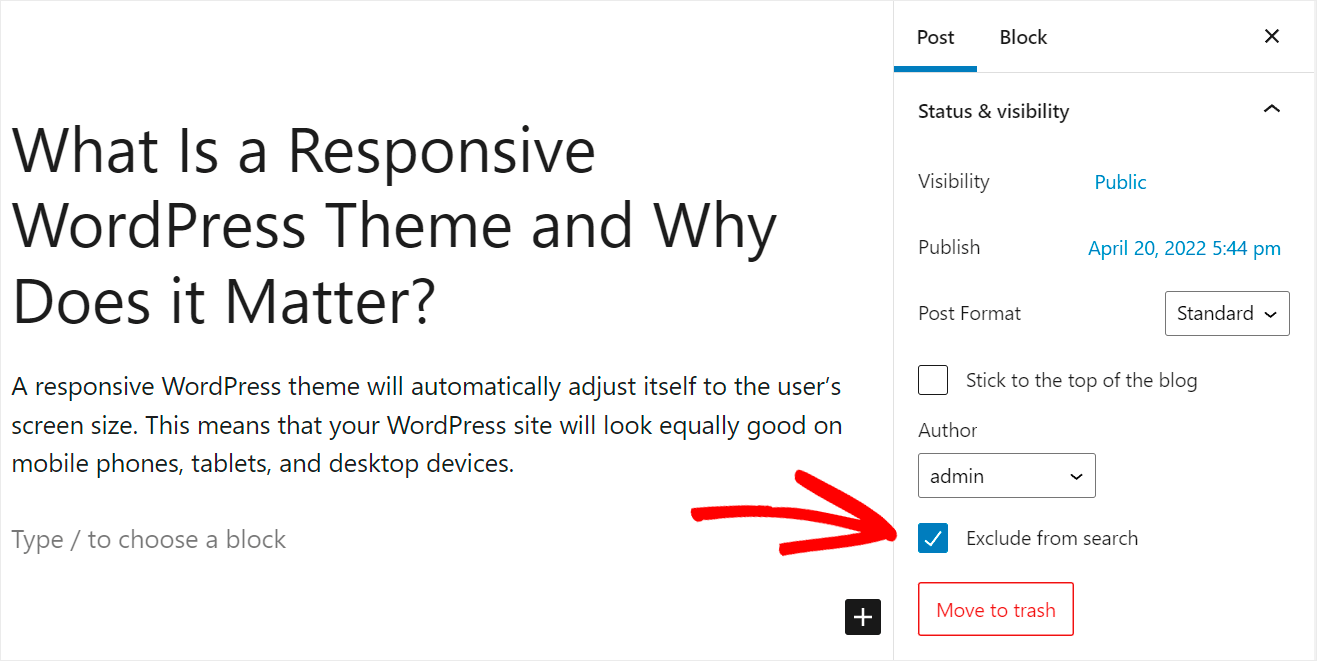 For more information, check out the how to exclude pages from site search results in WordPress guide.
Prioritize Specific Search Results
Would you like to prioritize some specific pages in your search results? It's super easy to do with SearchWP.
This plugin allows you to fully control the order of search results on your site and choose which pages you want to see at the top.
This way, you can promote your content, get more pageviews and leads.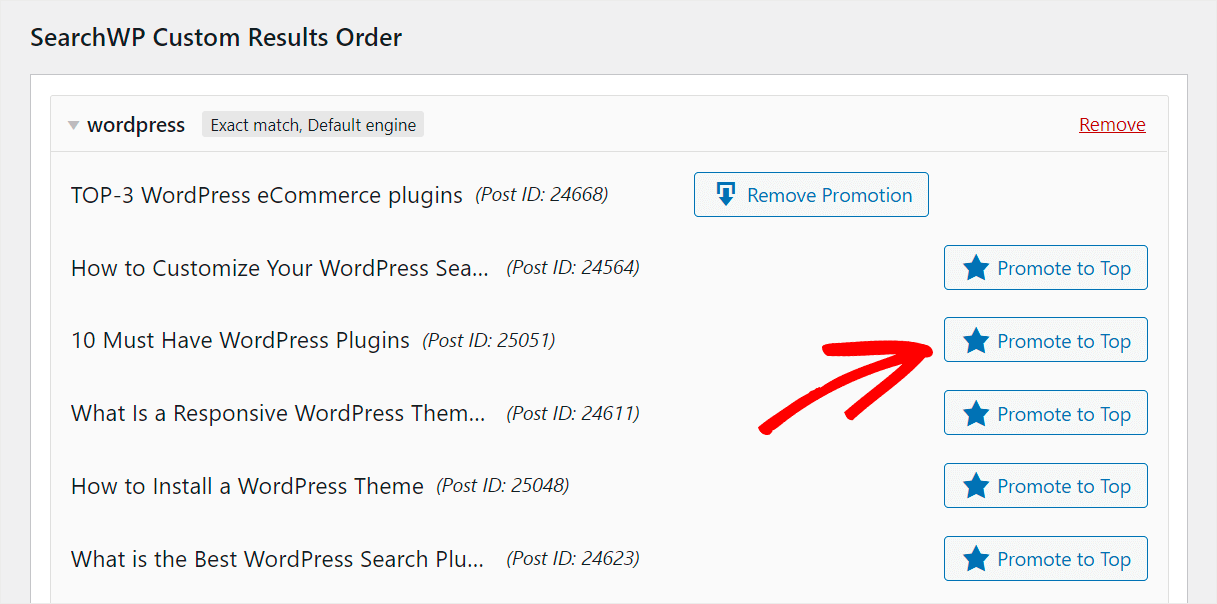 For more info on how to do that, check out the how to prioritize specific search results in WordPress step-by-step tutorial.
In this article, you learned 7 effective ways to improve search on your WordPress site.
By following them, you can make it easier for your visitors to find the content they're looking for, increase your content discoverability, and build a loyal audience.
Ready to boost your search? You can get started with SearchWP here.
Faced any problems with search on your WordPress site? Check out the how to fix WordPress search not working comprehensive tutorial.
Are you a WooCommerce store owner? You can see this post on how to make a smart WooCommerce product search.